Do you use Pinterest hashtags?
Should you use Pinterest hashtags? That's the question.
For years, Pinterest had been telling us not to use them – unless it's one, branded hashtag.
Now it's official…
Can you use hashtags on Pinterest?
Hashtags in Pin descriptions were clickable on desktop – then not. Hashtag buttons appeared on mobile – sometimes.
Pinterest finally published an official statement on September 26, 2017. YES you can use hashtags on Pinterest!
What are hashtags?
Hashtags are a word or phrase preceded by a hash (#) used to identify Pins on a specific topic. You'll know it's a hashtag when you see the hash (#) preceding the word or phrase.
Hashtags on Pinterest work just like they do anywhere else.
When you add hashtags to the description for a new Pin, other Pinners can click on it to visit a feed of all the Pins that share that hashtag.
The freshest Pins will be right up top. Unlike normal search results on Pinterest, these will be shown in (mostly) chronological order.
How to find Pins with hashtags
You can discover related content by clicking on a hashtag in Pin description.
You can also search for a hashtag, like "#interiordesign" or "#healthyrecipes". If you search the same phrase without the hashtag, it will pull up the normal search results page.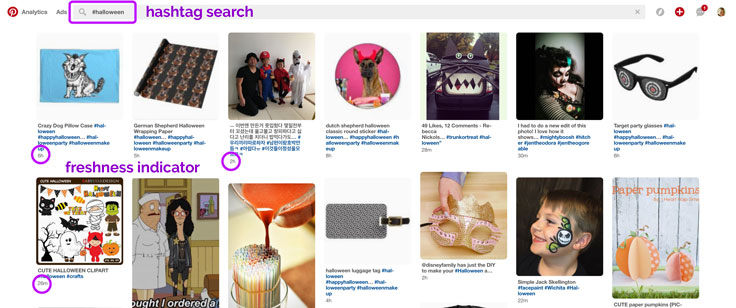 How do I add hashtags to Pins?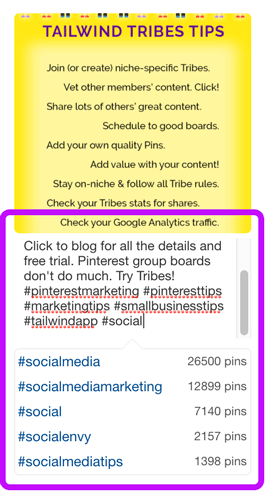 Hashtags for Pins go in the description.
I recommend placing them at the end of your description, and not peppered throughout your carefully-crafted sentences.
Remember that hashtags are clickable, so give Pinners a chance to read through to your call-to-action before getting distracted to click away to a hashtag feed!
To add a hashtag, type "#" and add a keyword or phrase.
If you're trying to Save a Pin from a website by using a Pinterest share button, you'll see suggested hashtags pop up with a number following.
See screenshot: This is in the Pin description when I Save a new Pin. I do not see this when editing a Pin description on the Pinterest platform.
Which hashtags should I use on Pinterest?
When inserting a hashtag, Pinterest recommends you be specific and descriptive. Use words or phrases that describe the content in the Pin.
Include a selection of hashtags that are closely related to your niche. One could be your brand hashtag (if you have one).
Always place your branded hashtag before other hashtags so it's more likely to be the one clicked!
Don't use popular, irrelevant hashtags just to get attention! I know of one account that was banned from Pinterest for doing this.
While you shouldn't use hashtags that are crazy popular and vague, super-niche hashtags with under 100 uses are probably not going to help you get found. I suggest using a combination of broad and niche hashtags.
If you're not sure which hashtags to use, try searching for your topic on Pinterest and use the autocomplete suggestions as guidance.
You can search hashtags that you're considering using (enter "#yourkeywordphrase" in the Pinterest search bar) and check out the content in the search results to make sure it's relevant to yours.
You can also get an idea of how often that hashtag is used. If the page is filled with Pins posted in the last 10 minutes, that tag feed moves too fast to be of much use to you.
Unlike hashtags elsewhere, Pinterest hashtags aren't used for jokes, memes or commentary. So for a fashion brand, something like #springfashion would work well—but #ilookterribleinhats wouldn't.
It's best to be objective and use hashtags that make sense and are relevant to the Pin.
Depending on your Pin, consider using hashtags that are timely, such as:
#oscars
#backtoschool
#halloween
And/or hashtags that are evergreen, like:
#mealplanning
#hairgoals
#homedecor
This will help make it easier to for users to filter and find relevant content they are interested in.
How many hashtags should I use on Pinterest Pins?
Pinterest says to add no more than 20 hashtags per Pin.
I've seen some people say to use one or two, which makes me wonder, Why bother?
I personally have a hard time narrowing down to less than 5 or 6. I would suggest you try somewhere in the neighborhood of 2 to 8.
Though I use and recommend 30 hashtags on Instagram, I avoid using the full complement of 20 on Pinterest. You can test it though, and see if it works for you!
If you write a long enough description, the hashtags will be hidden under a "More" tag. Currently descriptions are truncated by "More" after approximately 190 characters.
I still feel 20 hashtags per Pin looks out of place and spammy on Pinterest. Please let me know if you've tried and found it effective!
Four hashtags seems like a reasonable number. In Fall 2017, Pinterest showed 4 hashtags instead of a Pin description under the Pin previews in streams and on boards. If you've used more than 4, only the first 4 were shown here (see below).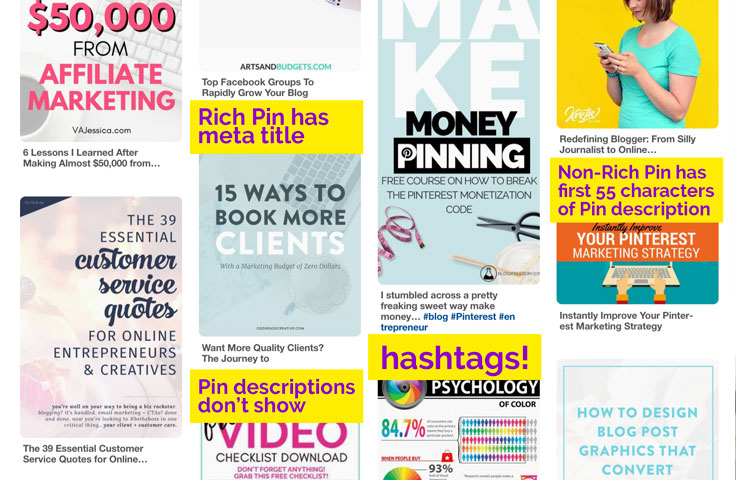 You do have 500 characters to use in your Pin description, so you can add more than 4 hashtags.
But also be aware that many Pinterest users are complaining about excessive hashtag use and calling it spammy. Don't overdo it!
Here's a great tip from the Tailwind blog:
"If a user searches for hashtags that have few Pins labeled with the hashtag, the search feed will also display results without hashtags.

The Pinterest algorithm will try to match the content based on keywords and other cues from the content to identify user intent. This helps the feed display similar, non-hashtagged content the user may have intended to find with the hashtag search but that has not been hashtagged.

Note: These instances of low hashtag use provide a great opportunity for businesses who have content that would fit within these hashtag search results. Dominate hashtags that have few results in the search feed by adding these hashtags to your posts when relevant."
Should I add hashtags to old Pins?
People often ask if they should go back and add hashtags to older Pins.
You can, but it won't help your content show up at the top of hashtag search feeds. Newer Pins with that hashtag will appear first. source
If you want to change or add a hashtag, just edit the Pin description. Since hashtag searches turn up Pins based on when they were Saved, don't edit old Pin descriptions to add hashtags.
Do add hashtags when doing a new "Save" of a previous Pin. Now you've got a fresh one!
Pinterest Hashtag Hacks: Short Version
Add hashtags for Pins in the description by typing "#" followed by a keyword or phrase.
When Saving a new Pin, suggested hashtags pop up with a number. Choose tags in a medium range of uses.
Be specific and descriptive. Use words or phrases that accurately describe the content in the Pin.
IF relevant to your Pin, use both hashtags that are timely, and ones that are evergreen.
Search hashtags that you're considering using. Enter "#yourhashtagphrase" in the Pinterest search bar, and ensure the search results are relevant.
Add no more than 20 hashtags per Pin. The first 4 added may appear under the Pin in feeds.
I suggest using 2 to 8 maximum hashtags. More may look spammy.
Put hashtags at the END of your description to lead Pinners TO your content, not away from it.
If you want to change your hashtag later, edit the Pin description.
Since hashtag searches favor recent Pins, don't edit old Pin descriptions to add hashtags.
Continue your keyword strategy on Pinterest, as most Pinners will discover your content via keywords.
Be sure to make eye-catching Pins, so that yours get clicked in the hashtag feed.
Hashtags on Pinterest ONLY work in Pin descriptions! No need to use them elsewhere.
Be sure to Pin the Hashtag Hacks cheat sheet at the end of this article!
Are Pinterest Hashtags Actually Helping?
I strongly recommend you continue your keyword strategy on Pinterest. I believe this will be the way most Pinners will discover your content.
However, hashtags give us another avenue to be found – via users clicking hashtags on others' Pins.
Pins in the hashtag feed will show up freshest first, so the more often you Pin with relevant hashtags, the better chance you have of being seen in the hashtag feed.
I personally started using hashtags on Pinterest 2 months before Pinterest's official announcement. At first, I used 2-3 per pin, and since they made it official, am using about 6.
My repins, views and website traffic are up. I can't say for certain it's due to hashtags. Even before hashtags, I started repinning only content that's performing, so that could be the reason.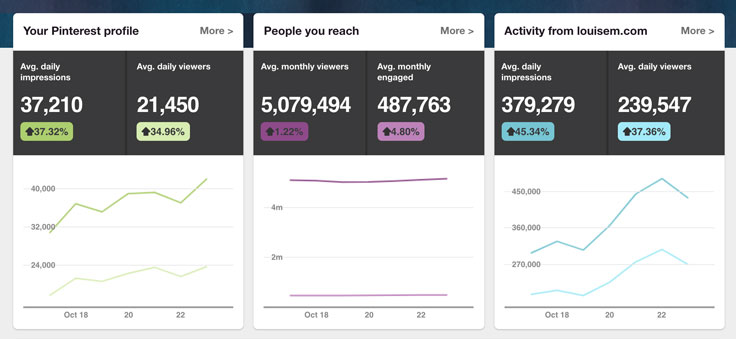 Some users are reporting flat results, and others say they're helping. I haven't heard a single user report that their Pinterest results are down since using hashtags.
For me, Pinterest continues (after almost 3 years) to send the most traffic to this one viral post. That Pin has no hashtags.
I believe we can't ensure specific results on Pinterest, we can only enhance our chances. So I suggest you do include a few well-chosen hashtags at the end of your Pin description. As Pinners get more accustomed to how they work, their effectiveness will likely increase.
Why aren't my Pins showing up in the Hashtag Feed?
Pinterest said that hashtag feeds would surface the freshest content first – but you may notice that the feed isn't showing you all Pins with that hashtag, in completely chronological order.
One woman noticed that most of her Pins were missing, and some of the content was old. She emailed Pinterest and got this response:
What shows up when a hashtag is searched has to do with a lot of different factors including a Pinner's interests, searches, past history of engagement, etc as well as a vast majority of other signals. In general, our goal is to show the right Pin to the right Pinner at the right time. That means that it actually isn't possible to force show a specific Pin of yours for the hashtag.
So like I said above, we can't make Pinterest bow to our wishes – we can only follow suggestions and see what works best for our own accounts.
Pinterest first hinted about hashtags in August 2017
I first heard of this in a blog post. The author Vanessa was fortunate enough to visit Pinterest HQ in San Francisco.
She met with Jackie, a Partner Manager.
"Jackie explained that brands really wanted to utilize hashtags because they had become so commonplace on other platforms and basically the language of #marketing. Pinterest has started utilizing hashtags in the search as well as linking pins with the same hashtags. Her Pinterest marketing strategy was to include at least one hashtag after the end of the pin description that most strongly represented the purpose of the pin."
I read that August 21. Then on August 23, I was on a webinar with Pinterest and Curalate.
Tiffany Black is the Head of Content Business Development and Corporate Development at Pinterest. During the webinar, she mentioned both keywords and hashtags, and fielded a couple of pointed questions later.
As far as hashtags, she recommended we use a few, relevant ones in our Pin description. "Don't get carried away or use 100."
There's now an official recommendation from Pinterest on number to use: no more than 20. Heck, that's a lot!
Jackie had said 1 or 2, but apparently that wasn't an official Pinterest stance.
The full quote from Tiffany:
"It is true that In the past, I think that we were dissuading people from using hashtags. We are actually changing that such that you can and are often benefited in the future by using hashtags. As far as best practices go, the rule of thumb is use authentic hashtags but don't keyword stuff essentially. So I know on other platforms you can often see people putting 50 or 100 hashtags on something.

It's not the volume of hashtags that's really useful, it's actually making sure you are using the hashtags that people will likely be searching for. So not trying to do like 100 because actually doing too many will decrease rank in some capacity because we will think it is possibly spam.

So I would say we haven't figured out exactly what the right number is. I don't think that we will probably come out with an exact number but you know keeping it reasonable and using ones that are relevant to the content and authentic is the way to go."
When asked whether keywords needed to be used in a sentence, Tiffany responded that it's "preferred" to be conversational, but not critical enough to go edit past Pin descriptions.
Conclusion: Should You Use Pinterest Hashtags in 2020?
Check out these benefits of using hashtags on Pinterest:
Hashtags are the way to get quick results on your new Pins, which often take weeks or months to surface in search.
Hashtag feeds are "freshest first" and can give you an immediate bump in traffic.
Hashtags provide another way for your Pins to be found.
Pinterest's stated mission is to help people discover and do things they love, and hashtags help them do that.
Pinterest invested in developing hashtag functionality. They're behind it 100%.
On October 21, 2017, Pinterest made a bold move in favor of hashtags: showing 4 of them under Pin previews in feeds.
In 2 years, they haven't wavered from their stance that hashtags are helpful to surface the content Pinners seek – which hopefully is your content.
To me, all this says you should use hashtags on Pinterest.
I add four to six hashtags at the end of each Pin description – but I don't A/B test. Let me know if you do!
I understand that you might be wary that hashtags are a bad thing for brands. I was too!
Pinterest always said that hashtags can lead users away from our content. Remember to put your branded tag first, to lead Pinners to a page of your content.
Be sure to create eye-catching Pins, so that yours is the Pin that gets clicked in other hashtag feeds.
I've done well being found in keyword searches. Maybe you have, too. But who knows if that will continue?
It seems hashtags may be prioritized. That's why I think you should jump on board.
Cautiously, though.

Pinterest doesn't give us a lot of specifics on how to run our accounts – in the webinars, they have.
Use a few hashtags at the end of your Pin descriptions. Not at the beginning – that has a much better chance of leading users away from your Pin.
Check out the returns from hashtag searches before deciding which ones to include.
Have you tried hashtags on Pinterest? Let us know a comment.
I'll keep this post updated on how to use Pinterest hashtags. Pin it, and check back!
*The post "Pinterest Hashtags 2019: This Is All You Need To Know" originally appeared first on Louise Myers Visual Social Media.