Pinterest analytics tools help you track your performance on the platform. But you can also use them to craft a winning Pinterest business strategy.
With Pinterest Analytics, you can measure pin performance, follower growth, traffic referrals, and make sure you're meeting your social media targets. More importantly, insights from these analytics can be used to help you understand your audience better, create stronger content, and develop data-supported strategies.
To use Pinterest Analytics you have to have a business account. To get to your profile analytics, click Your Pinterest profile at the top of Pinterest Analytics.
Bonus: Download a free guide that teaches you how to make money on Pinterest in six easy steps using the tools you already have.
14 metrics to track with Pinterest Analytics
Pinterest profile analytics
1. Impressions
What it measures: The number of times your pins appear in the Home Feed, search results, and different category feeds. In other words, one impression = one view.
Why it matters: Impressions measure how much reach your content has. Look for patterns among your pins with the most impressions for a sense of what Pinners are searching for on the platform.
2. Closeups
What it measures: The number of times people have tapped your pin to take a closer look.
Why it matters: Something in your pin has caught a Pinner's eye. A closeup tells you that your visuals are having an impact.
3. Repins
What it measures: The number of times a user saved your pin to one of their boards.
Why it matters: A repin is a step-up from an impression and a closeup. It means that users not only found your post interesting, they found it shareable and saveable, too.
4. Clicks
What it measures: The number of clicks through to your website from the pins on your profile.
Why it matters: A good click rate shows that people want to learn more about your content and that your call-to-actions are working. If conversions are one of your primary goals, clicks are one of the best ways to measure your ROI.
5. Top pins
What it measures: The top 50 performing pins from the last 30-day period, based on impressions, repins, and clicks.
Why it matters: Pinterest stats can accrue over a longer period of time than they do on other networks. This section gives you a better understanding of the full impact of your pin's performance. For example, Buzzfeed found more than half of their traffic from Pinterest goes to posts published more than two months ago.
6. Top Boards
What it measures: A 30-day look at the boards Pinners are seeing your pins from, pinning your posts to, and clicking your pins from.
Why it matters: Knowing how Pinners are sorting and discovering your content is invaluable intel for your content strategy.
7. All-Time Stats
What it measures: A long-view on data, starting from your account's inception, on your most repinned pins, best pins in search, and your Power pins. Power pins are the most engaged with pins from your account.
Why it matters: Benchmarking against your best performing content is a good way to determine what's worked for your account, and how to keep excelling. Plus, knowing which pins rank well in search results will help you to optimize exposure moving forward.
Pinterest audience analytics
To learn more about who's engaging with your pins, click Your Audience from the top of the Pinterest Analytics dashboard.
8. Demographics
What it measures: Pinterest Analytics audience insights include language, gender, country, and metropolitan stats. (Unfortunately, city-specific data is only available in the United States at the moment.)
Why it matters: The better you understand your audience, the higher the chances your Pinterest content will connect. Demographic data can be used to fine-tune your content strategy so that you're posting pins at the best time of day, sharing region-specific deals or promotions, or even posting in a different language.
9. Audience Affinities
What it measures: Affinities lets you see what your audience is into. In this section you can see the most popular categories your followers engage with, the top boards your content is pinned to, and the other business accounts your audience follows.
Why it matters: Basic demographics will only go so far to help you understand your audience. Learning about your followers' affinities will help you get to know what interests them and what type of content they like to engage with. Plus it will help you scope out the competition. Think of this section as an inspirational cheat sheet and mood board for future planning.
Pinterest Website Analytics
If you share content from your website, this is where you can see how it's performing on Pinterest.
If you haven't already, you'll need to claim your website to have access to these metrics.
Web stats can be found in the "Activity from your website" section at the top of the Pinterest Analytics dashboard.
10. Impressions
What it measures: The number of times a pin from your website has appeared in the Pinterest home feed, category feed, or search results.
Why it matters: This stat tells you how many people on Pinterest have seen content from your website. It can be analyzed with your Pinterest Profile Impressions to see how posts from your site compare.
11. Saves
What it measures: The number of times someone saved a pin to one of their boards using a Save button.
Why it matters: A save increases the reach of your posts on Pinterest, but more importantly, it indicates Pinners think your content is worthy of sharing. A Save may also mean that a user plans to re-engage with your post later, which makes this metric key to understanding how well your brand is building customer relationships.
12. Clicks
What it measures: The number of times Pinners clicked on pins that are created from your website.
Why it matters: If someone has clicked on a pin created from your website, chances are higher that they'll like what they see when they get there.
13. Top pins
What it measures: The most popular pins from your website from the last 30 days.
Why it matters: These are the most popular pins from your website. You can use these results to plan new pins and boards to create, new content you might want to feature on your website—or even new products or services.
14. Original pins
What it measures: The number of unique pins created from you website using the Save button, Pinterest browser extensions, or manual pin uploads. Learn how to make sure your website is pin-friendly here.
Why it matters: You'll get an idea of how much unique content is being added to Pinterest from your website. Original pins are a good measure of how your website content rates in terms of shareability.
5 of the best Pinterest analytics tools
1. Pinterest Analytics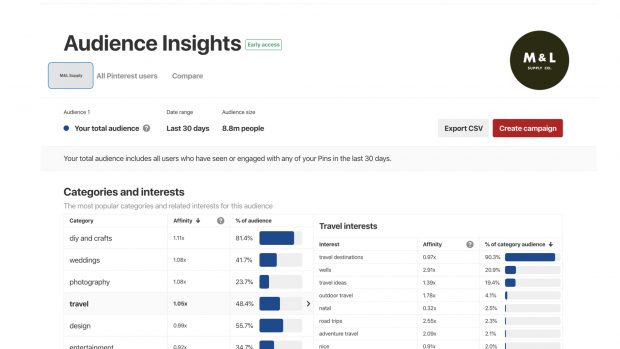 Pinterest Analytics is Pinterest's free tool. But remember, you'll need a business account to use it.
The dashboard is organized into three sections: profile, audience, and website analytics.
Data can be sorted by time period, and by device, which can be helpful to compare, especially when it comes to tracking how many people are on mobile versus desktop. For example, if you find a large percentage of website impressions are from people on smartphones in tablets, you may want to spruce up your site and ensure it's optimized for mobile.
You can also export your stats in a CSV file, which will come in handy for your next report.
2. Hootsuite
Hootsuite Impact benefits from Hootsuite's full, native integration with Pinterest, and offers enterprise customers access to a suite of Pinterest analytics tools. With Hootsuite Impact, users have access to an executive ROI dashboard, competitor benchmarking, real-time strategy insights, and big-picture analysis powered by Adobe Analytics, Tableau, and Microsoft Power BI.
3. Viralwoot
Formerly Pinwoot, Viralwoot offers a range of Pinterest analytics tools. Track your overall performance with Viralwoot's "pinfluencer Score," which is calculated based on overall presence, virality, reach, and top-performing content. Viralwoot also includes Pinterest SEO analysis, which will help you understand how to rank better in search.
4. Google Analytics
Google Analytics is a good comparison tool to benchmark Pinterest performance against other social and referral traffic. When you log in to Google Analytics, click on Acquisition then Social to see how much traffic comes from each site.
5. PinGroupie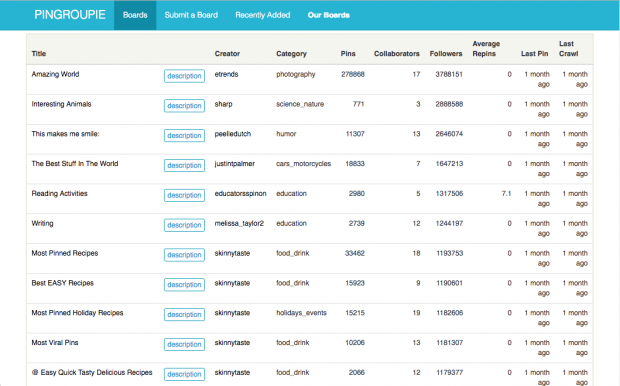 PinGroupie is a good tool to discover what Pinterest Boards are popular on the platform. You can see how your Boards rank compared to others in similar categories, and find trending boards you may want to join or pin to in order to reach more Pinners.
*This post first appeared on Hootsuite